Love You Forever Necklace

Sterling Silver
Description

Guarantee

Size & Care
A beautiful necklace featuring an open heart design set with graduated sparkling cubic zirconia. Show your loved one just how much they mean to you this Christmas!
The heart measures at 17 x 16mm and comes on an 18" chain with adjustable 16" and 17" options.
Our latest luxury silver collection has been hand crafted to the highest quality, and it really shows! This 925 sterling silver has been triple plated with palladium, platinum and rhodium; three of the strongest metals and rhodium to give it the brightest lustre that will last a lifetime. The sparkling cubic zirconias are extremely high quality with a grading of 7A and are cut with the precision of real diamonds, this guarantees an unbelievable sparkle. This luxury jewellery collection is perfect to mark any special occasion, from bridal to birthdays!
A special gift for a Silver Wedding Anniversary! Silver is the perfect precious metal to commemorate 25 years of marriage. Celebrate a quarter of a century of your love and commitment with a beautiful piece in sterling silver. Remember your 25th Wedding Anniversary for years to come and the shining commitment you forever make to one another with a beautiful piece of silver jewellery.
One Year Manufacturers Guarantee
We guarantee the manufacturing quality of this jewellery item for one year. Any fault due to manufacturing will become apparent in this time. If you notice a manufacturing fault with this item, please return it to us within one year of purchase for a free repair / replacement.
We cannot guarantee wear and tear of your jewellery piece; so please follow the care instructions provided.
Wear and tear or damage from mishandling is visually very different to a manufacturing fault – and will be highlighted if this is the cause of damage to your jewellery piece. 
SIZE
Rings: We offer one free resizing service when you purchase a ring from us.
Most ladies rings are an average size M.
Most Men's rings are an average size U.
Rings can take approx seven to ten days for resizing and if it is for a gift we recommend sizing after it is presented where we can then measure the finger and arrange the correct size.
If any piece has been altered in any way by a jeweller other than Gear Jewellers, your warranty is no longer valid.
It is our recommendation that each piece be regularly maintained and checked once a year by a service professional.
At Gear Jewellers we provide complimentary inspection and basic cleaning for rings purchased through our store or website.
Necklaces: Average size for a ladies Necklace / Pendant chain is 18" however we stock chains from 16" - 28"
Bracelets: Ladies bracelets are an average of 7.25" long
Cleaning
Jewellery can become dirty from natural skin oils and wear and tear.
We want your Diamonds to be sparkling at all times, this is why we offer a complimentary cleaning service including a professional ultrasonic cleaning and inspection of your Jewellery to check for wear and tear.
White Gold is not naturally white, it is Rhodium Plated which gives the metal its white sparkle and this will naturally wear away from daily wear.
It is recommended that a white gold ring should be rhodium plated every 2 years. Drop in to discuss this.
Free shipping on orders over €75
---
Need some help?
Contact us.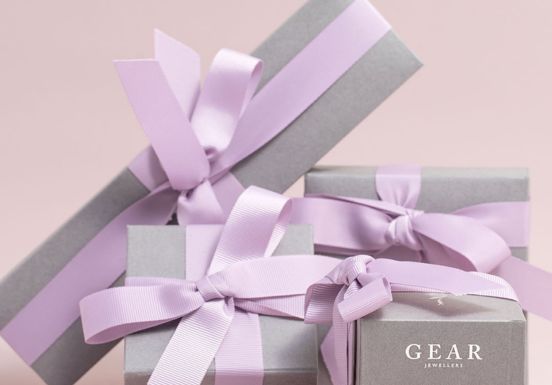 BUYING FOR SOMEONE?
All our jewellery comes packaged in our signature packaging. For something extra special, we offer to have your box wrapped, added in a gift bag with a personalised message for that finishing touch.
BUYING FOR SOMEONE?
All our jewellery comes packaged in our signature packaging. For something extra special, we offer to have your box wrapped, added in a gift bag with a personalised message for that finishing touch.
Care Instructions
How do I take care of my jewellery?
Gold
Scrub lightly with a fresh toothbrush and warm water. You can also buff your pieces using a polishing cloth.

Sterling Silver
Gently rub the surface with a polishing cloth.
Do you have a warranty?
Yes! For 1 years from the date of purchase, we'll take care of your product if any damage to the material occurs. Simply contact us and we'll send you a replacement.
Please note: This warranty does not cover lost items, scratches that come with normal wear and tear, improper use or storage of your product, and any modification to your product done by a third party.
How do I use a polishing cloth?
Gently rub the surface of your piece with a polishing cloth. Never wash the polishing cloth as it will lose its effectiveness, and keep out of reach of children!
Shipping & Returns
Fast shipping
We are happy to announce we officially ship internationally! All orders are dispatched within 2 - 3 business days.
Order tracking
Tracking numbers are automatically sent as soon as your order is packed. Please check your junk folder if you do not receive one 72hrs after placing your order.
Get in touch
If you have any questions about your order, please contact us. Our customer service is available Monday through Friday from 10am until 6pm (IST)