Paperlink ladies Chain Bracelet

9ct Gold
Description

Guarantee

Size & Care
A beautifully crafted 9ct gold paper link bracelet. This bracelet has a spring-loaded secure closing for a seamless style.
This is a hollow-form bracelet, which means it takes the form of a much larger bracelet while using less gold - leaving it hollow inside and more affordable. We advise that this jewellery piece could dent if it gets a sufficient bang due to its hollow construction.
Here is a gift idea...
A special gift for a Golden Wedding Anniversary! Gold is the ultimate precious metal to commemorate 50 years of marriage. Celebrate half of a century of your love and commitment with a beautiful piece in solid gold. Entering your golden years as a strong couple represented by the strength of gold in a beautiful piece of jewellery to cherish. A memorable way to celebrate your 50th Wedding Anniversary.
One Year Manufacturers Guarantee
We guarantee the manufacturing quality of this jewellery item for one year. Any fault due to manufacturing will become apparent in this time. If you notice a manufacturing fault with this item, please return it to us within one year of purchase for a free repair / replacement.
We cannot guarantee wear and tear of your jewellery piece; so please follow the care instructions provided.
Wear and tear or damage from mishandling is visually very different to a manufacturing fault – and will be highlighted if this is the cause of damage to your jewellery piece. 
SIZE
Rings: We offer one free resizing service when you purchase a ring from us.
Most ladies rings are an average size M.
Most Men's rings are an average size U.
Rings can take approx seven to ten days for resizing and if it is for a gift we recommend sizing after it is presented where we can then measure the finger and arrange the correct size.
If any piece has been altered in any way by a jeweller other than Gear Jewellers, your warranty is no longer valid.
It is our recommendation that each piece be regularly maintained and checked once a year by a service professional.
At Gear Jewellers we provide complimentary inspection and basic cleaning for rings purchased through our store or website.
Necklaces: Average size for a ladies Necklace / Pendant chain is 18" however we stock chains from 16" - 28"
Bracelets: Ladies bracelets are an average of 7.25" long
Cleaning
Jewellery can become dirty from natural skin oils and wear and tear.
We want your Diamonds to be sparkling at all times, this is why we offer a complimentary cleaning service including a professional ultrasonic cleaning and inspection of your Jewellery to check for wear and tear.
White Gold is not naturally white, it is Rhodium Plated which gives the metal its white sparkle and this will naturally wear away from daily wear.
It is recommended that a white gold ring should be rhodium plated every 2 years. Drop in to discuss this.
Free shipping on orders over €75
---
Need some help?
Contact us.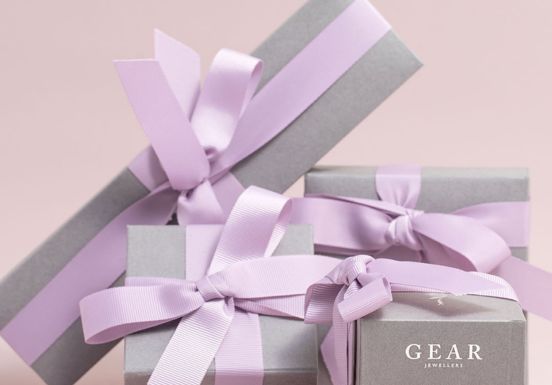 BUYING FOR SOMEONE?
All our jewellery comes packaged in our signature packaging. For something extra special, we offer to have your box wrapped, added in a gift bag with a personalised message for that finishing touch.
BUYING FOR SOMEONE?
All our jewellery comes packaged in our signature packaging. For something extra special, we offer to have your box wrapped, added in a gift bag with a personalised message for that finishing touch.
Care Instructions
How do I take care of my jewellery?
Gold
Scrub lightly with a fresh toothbrush and warm water. You can also buff your pieces using a polishing cloth.

Sterling Silver
Gently rub the surface with a polishing cloth.
Do you have a warranty?
Yes! For 1 years from the date of purchase, we'll take care of your product if any damage to the material occurs. Simply contact us and we'll send you a replacement.
Please note: This warranty does not cover lost items, scratches that come with normal wear and tear, improper use or storage of your product, and any modification to your product done by a third party.
How do I use a polishing cloth?
Gently rub the surface of your piece with a polishing cloth. Never wash the polishing cloth as it will lose its effectiveness, and keep out of reach of children!
Shipping & Returns
Fast shipping
We are happy to announce we officially ship internationally! All orders are dispatched within 2 - 3 business days.
Order tracking
Tracking numbers are automatically sent as soon as your order is packed. Please check your junk folder if you do not receive one 72hrs after placing your order.
Get in touch
If you have any questions about your order, please contact us. Our customer service is available Monday through Friday from 10am until 6pm (IST)